Commercial Flooring in Great Falls, MT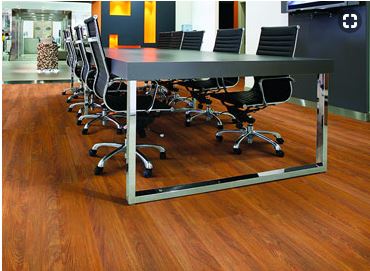 The look of your office, storefront, or other place of business says a lot about your company. Whether you need to impress prospective clients or you are looking to create a more pleasant environment for your employees, look no further than Flooring America for high-quality commercial flooring in Great Falls, MT. We have a wide variety of options to suit any aesthetic you may be going for and are equipped to address the specific needs of businesses. Let us become your go-to source for high-quality, affordable flooring that lasts for years.
Flooring That Holds Up
Unlike home flooring, which can easily be protected from rough use, the floors of a business need to be extra durable. Between foot traffic, careless customers, and the goings-on of everyday business, there is simply no way to ensure that your floors aren't going to be used indelicately. Fortunately, our showroom carries highly durable, long-lasting commercial floors that can take the wear and tear imposed upon it. No matter what look you go for, we have the durable floors to match. We can provide the following types of flooring and more:
Carpet Flooring
Laminate Flooring
Luxury Vinyl Tile
The Affordable Option in Flooring
We understand just how important it is for your company to stay within its annual budget. Even the smallest of unexpected expenses in the wrong quarter can lead to catastrophic results. That is why we offer a wide variety of affordable commercial flooring options, each one intended to help beautify and enhance your business while keeping your bottom-line as low as possible. We want to become your partner in flooring, which is why we will work closely with your company to make sure you get the look and feel you want at a price that will have you coming back to us every time you need new floors.
Partner with a member of our flooring showroom staff today to go over your options. We are well-versed in the ins and outs of commercial design, making us particularly suited to helping you find the perfect flooring for your needs. Whether you are looking for hardwood or carpet, we can point you in the right direction. You simply cannot go wrong when you turn to our team for your commercial flooring needs. Find out more about the services we offer and the flooring we provide by reaching out to a member of our team today.
Contact us today to find out why we are the trusted name for commercial floors. We are proud to serve Great Falls, Montana, and the surrounding area.