Beautify Your Indoor Space with Hardwood Flooring in Great Falls, MT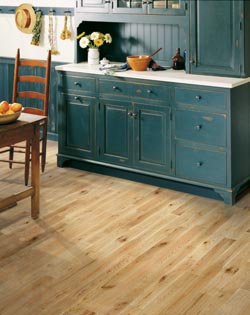 Do you wish to enhance the appeal and overall feel of your home? Give your interior atmosphere a timeless look with hardwood flooring in Great Falls, Montana. At Flooring America, we proudly showcase an impressive selection of hardwood floors fit for shoppers of every taste and preference. When homeowners want premium hardwood floors, they know to visit our flooring store.

Beloved by flooring experts and shoppers alike, hardwood is rich in rustic appeal and is exceptionally durable, making it one of the most popular flooring options available today. Ambitious shoppers should have no trouble finding a wide variety of materials that are sure to suit their needs in our expansive showroom. With so many customization options to consider such as color, grain, and species, finding the choice that truly satisfies your design vision could prove to be more difficult than you think. That's why our knowledgeable specialists are always on hand, ready to help eager shoppers find a solution that meets their every need. At your request, we'll also perform your hardwood flooring installation to ensure every inch of your new flooring is placed perfectly.
Choose Wood Flooring for Sensible Home Investment
Hardwood flooring is the material of choice for homeowners looking to augment their spaces with timeless beauty. Real hardwood offers a charming, rustic feel to any room it's featured in. Combine that with the durability and longevity that our quality flooring products are known for, and you've got a substantive, value-adding home investment in the making. In addition, should you consider selling your property in the future, well-kept hardwood flooring is a tantalizing feature for potential buyers.
Proudly Performing Hardwood Flooring Installation
We're confident that you'll find a top-notch floor when you turn to our specialists for your home remodeling needs. Let our team members provide you with samples of our stunning, versatile flooring options. However, our commitment to you doesn't end once you've found a selection that speaks to you. Trust our seasoned installation crew to handle every aspect of the hardwood flooring installation process for you. We bring an unmatched degree of care and expertise to each job we take on.

No matter what you wish to achieve with your flooring project, you can count on us to lay your new selection perfectly into place. Whether we're replacing your living room floors or laying treated hardwood flooring in a busy or moisture-prone area of your home, you can be sure that our experienced installation crew has all of your bases covered.

Contact our specialists to learn more about our premium hardwood flooring options. We're proud to serve Great Falls, Monument, Black Eagle, Vaughn, and Fort Shaw, Montana, and the surrounding areas.