Luxury Vinyl Tile in Great Falls, MT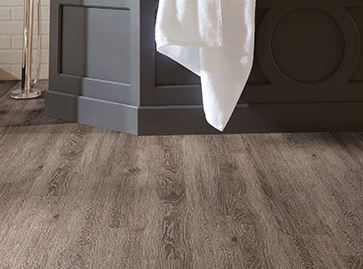 Foster a feeling of timeless elegance while getting the durability you need by choosing us for luxury vinyl tile in Great Falls, MT. When you stop by our expansive showroom, you'll find out for yourself just how incredible our selection of LVT truly is. This affordable alternative to traditional tile options has quickly become one of our most popular products, giving customers all the beauty of natural materials without the cost. Perfect for kitchens and bathrooms due to its waterproof nature, this cutting-edge material can hold up to everything life has to throw at it.
Whether you want to elegant look of hardwood or the timeless aesthetic that comes with tile, luxury vinyl floors are for you. They have the ability to imitate nearly any type of hard flooring by using the latest embossing techniques on the market. Never again will you have to settle when looking for affordable flooring. We have the ability to perfectly match the look you need, right down to the grain in wood or the imperfections in marble. You get all of this and more at a fraction of the cost of traditional flooring.
Easy To Maintain
Not only does LVT have the durability needed to hold up to your daily life, but it is also a breeze to clean and maintain. Due to its waterproof nature, spills and stains are a thing of the past. All you have to do is give it a routine, cursory sweep and perform normal cleaning to keep it spotless for years and years down the road. It has never been easier to keep your floors looking spotless, and clean floors lead to a cleaner looking house.
Quality Luxury Vinyl Tile Installation
Don't let just anyone install your new floors. Instead, turn to the team with the skill and experience needed to get the job done right. Whether installing our fabulous LVT or any of our other quality flooring options, such as hardwood, we take the time to make sure that everything is flawlessly installed the first time. Poorly installed floors can lead to serious problems down the line that will lower the value of your home and ruin the aesthetic quality of the room. Therefore, it is of the utmost importance for you to turn our team when the time comes to have beautiful new luxury vinyl tile installed in your home. Get in touch with a member of our team to find out more.
Call us right away for the high-quality LVT you deserve. We are proud to serve Great Falls, Montana, and the surrounding area.