Your Premier Source for Wood-Look Tile in Great Falls, MT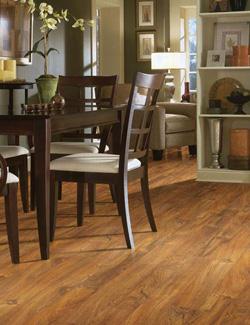 Do you long for a change of décor? Are you looking to breathe new life into any given in your home? Imparting a fresh change of flooring is an ideal way to change your interior design for the better. Local homeowners know to turn to Flooring America when they're looking for attractive, functional flooring solutions.
At our fully stocked showroom, shoppers of virtually any taste or preference will find an impressive assortment of quality flooring choices. From the classic appeal of our hardwood selections to our luxury vinyl tiles, we've got something for everyone. Notably, our line of wood look tile in Great Falls, MT combines the coveted look of hardwood flooring and can even perform well in places traditional hardwood can't, such as moisture-rich environments. Visit our showroom to find the right look-alike flooring for your remodeling project.

Offering a Diverse Selection of Look-Alike Flooring Choices
When eager shoppers step foot in our expansive showroom, they'll have little trouble finding a desirable look-alike floor that suits their remodeling efforts. Designed to offer the coveted look of traditional hardwood flooring, our wood-look choices are available in several different material variations, including:
Ceramic Wood Tile
Porcelain Wood Tile
Wood Plank Ceramic Tile
Wood Plank Porcelain Tile
Due to their resilient nature, our wood-look tile and wood plank choices stand up strong, even in moisture-prone spaces like kitchens, bathrooms, and even laundry rooms. When you choose one of these beautiful looking alternatives, you won't have to worry about accidents or dripping water--your wood look tile has you covered. Share your project details with one of our dedicated specialists and we'll help you find a highly desirable selection that sure to complement your desired area exceedingly well.

Enjoy a Flooring Installation on Your Terms
We're committed to making your flooring dreams a reality however you see fit. Trust your wood look tile to a team that has the training and tools necessary to cut and position your new flooring into the exact shape and pattern you're looking for. Count on us to get the job done right the first time. Rest assured that when you call on our installation crew to lay your new flooring in place, we'll work carefully, making sure to treat your new materials and your existing interior with the utmost care. Your result will be a stylish new floor that offers a coveted look and is as strong as it is attractive.


Contact our showroom to find the right wood-look tile or plank flooring for your home remodeling project. We proudly serve homeowners in Great Falls, Monument, Black Eagle, Vaughn, Fort Shaw, and the surrounding areas.
/div>